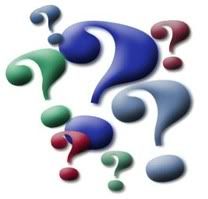 (The Moronic Monday post for this week has been skipped since I've spent the last few days hunting for and fighting with new layouts. The new one is up and running smoothly so far, so I'm back on. Let me know what you think! Please comment or email if you notice any issues/bugs. MM will be back on December 7th.)

***

Since many of you have sent me questions in comments and emails, I've decided to answer right here. I love reading your questions and I'm more than happy to answer so keep them coming! Either leave them in a comment or send me an email and I'll keep adding onto this list. Whatever you want to know, just ask!

Here are seven (7) questions I've been asked that I can remember off the top of my head right now.

1. How/where do you find the crazy, weird, strange things/people you post about?
I get this a lot. Pretty much anywhere. They sort of just happen. Sometimes it's something I stumble across reading online or heard about and went looking for the information to write a blog. I'll post about pretty much anything so it makes for a large supply. Plus, with the number of just plain stupid/weird people in this world it makes my Moronic Monday posts really easy. I actually have issues picking one story out of several quite often.

2. Is that really you in your profile picture?
Nope. It's just a picture I found online. I keep this blog pretty anonymous. It's part of the fun for me. I write about my real life plenty but I keep names, pictures and general identities a secret.

3. Are the conversations you post between you and your hubby actually real?
Yes. We really are this weird. We have the most random conversations pretty much every single day. It keeps things fresh.

4. What do you really think about Twilight the movie/books, not Twilight the dildo?
How can I not answer this one? I hate Twilight and everything related to it. Books, movies, posters, dolls, calendars, whatever. I don't get the love of vampires thing at all. Plus I think the Rob Pattinson dude looks like he needs a shower, a brush and a lot of sleep so I really don't get why people think he's 'hot'.

The dildo, I think is weird and creepy but the post about it is probably my favorite.

5. Why did you start Moronic Mondays?
I get different variations of this one a lot. I wanted something all of you and I could expect on a regular basis besides the random posts about whatever pops in my head. I love the randomness of this blog but I also like some structure so I kind of have the best of both worlds. Except when I'm a horrible blogger and don't post every Monday, sort of like this week.

6. Do you have a Facebook or Twitter page?
I don't actually, at least not ones for this blog. I'm thinking about making a Twitter account though so whoever wants to can follow me there and be instantly updated whenever a new post goes up, plus random things that won't be in posts on here. I'm still deciding but if I do you'll see a link to follow me in the same section as the email and subscribe icons which can be found on the right side below the search bar.

7. What state are you from?
I forgot I didn't put this in my profile before I got this question. I think I mentioned it in a post once or twice though. I live in Rhode Island. Yes, the smallest state in the country. And yes we're a real state for those out there who assume we're part of Massachusetts or New York. We're Rhode Island, not Long Island.


That's all I can remember right now, so if you don't see your question answered here send it in and I'll keep answering. From now on I'll keep track of them so I don't miss any.

***

With the new layout come some new features!

A pink bar is located at the top below the header that contains Home and About buttons to make things a little easier to navigate. There is also a Comment RSS button for anyone that would like to be updated whenever a new comment is posted.

On the right hand side below the search bar are my new Email and Subscribe buttons. I hope their new location and design make it super easy to use for everyone.

At the bottom of each post are three 'reaction' boxes you can check off to express what you thought about the post above. Right now they're labeled as Funny, Interesting, and Weird. Simply click the box you agree with and it will be counted. It's anonymous so I have no idea who picks what. Feel free to use them. Don't forget to comment though!

A new link will be added to the pink bar below the header directly linked to these questions and any others that will be added. Hopefully it will make it simpler for people to get to know me a little more.

***

I hope you enjoy the new layout! Please let me know if you find anything not working as it's still so new. Don't forget to send in your questions!
PS. Hubby is now miffed that I forgot to give him credit for helping with the new layouts. Actually, he did pretty much all of it. I just sat there and said change this or move that. So thank you hunny!