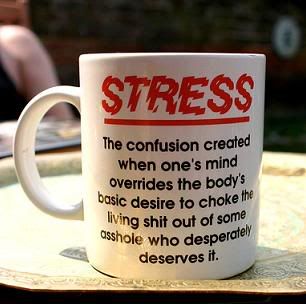 So, we're still trying to buy the same house we started with last April. Yes, that means we've been waiting on the same damn house for over 4 months. It's a short sale so it's not all that shocking to anyone that knows how they work, but that doesn't make it any less frustrating. We went months without a single update and then were given a big one last Thursday. Our agent called after hearing from the listing agent who had just talked to the short sale negotiator. Basically, it was an adult version of the phone game. The update was that we would have an approval letter from the bank by Tuesday. As in the Tuesday that just passed two days ago. It's now almost Friday and we have shit.
We called our agent yesterday who then called the listing agent who promised to call the short sale negotiator to see what's going on. So, the earlier phone came in reverse. The negotiator still hasn't responded so the phone tag is now on hold. We were supposed to be at the end of the road. It was supposed to be all over and ready to move onto the inspection steps and then head towards closing. Now, we're back in limbo with no idea what's going on. This whole process really sucks! If you ever have a chance to buy a short sale,
don't
. Just take my word for it; it's for your own sanity.
The crazy thing is when our agent told me on the phone last week that we would have the approval by Tuesday I didn't even really react. I was in shock that we were getting a real update with actual useful information. Our agent was like,
"If I were you, I'd be happy! This is a good thing!"
But now I realize I was right in not reacting because apparently it all meant nothing anyway. The bank was just talking out of their ass which they're so ridiculously good at. They've had $1,000 of our money since April when the original contract was signed. We're paying more for rent because we're month to month now and we're inching closer and closer to the deadline for the first-time homebuyers' credit. This house is costing us money and we don't even own it yet!
Other great things happened this week so I'm trying not to complain but I'm clearly not winning that battle.
Here are three very important lessons:
1. Never buy a short sale.
2. Bank deadlines don't mean shit when they're supposed to do something.
3.
Never buy a short sale
.
I'm going to go watch Dirty Dancing and eat frozen yogurt because they make me happy.