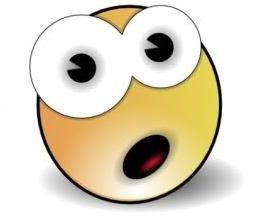 Quick, what's your favorite smell? Is it a flower? Something baking? Or maybe even the smell of a brand new car? Whatever it is, have you ever wished you could bottle it and be able to enjoy the scent whenever the urge struck you? Well, apparently someone who seriously had way too much time on their hands had a similar wish. Except their favorite smell wasn't so innocent. Instead of something everyone would enjoy like cookies baking or the way a freshly bathed baby smells, they went a whole different route. A weird one. One that never should have happened.
I give you
Vulva original-Vaginal Scent
. I sort of feel the need to apologize for this right here but hey, you know how crazy this blog can get. At first I thought this was perfume made for the vagina which had me really confused since the idea of spraying alcohol based products on my vagina sounds painful and really pointless. But then I started to read the product description and went from really confused to a whole new level of "
what the fuck?!
" It's not perfume at all. It's not even made
for
the vagina. It's actually a liquid that's made to smell exactly
like
an aroused woman. Yes, you read that right. Someone went out and made a product that is meant to mimic the scent of a vagina. I don't get it either.
According to the site they went through "
years of extensive research and testing,
" before making the final product for all to enjoy. They even gave the bottle a roll-on top which really just makes it that much more weird. The description goes on to say that after applying it to the back of your hand (yeah I'm sure that's the only place people put it – eye roll) to sit back and enjoy. Are people really this desperate? Is there really a market for this kind of thing? Actually, I don't really want to know the answer to this question since I'm probably better off not knowing. I also would have been better off not knowing about this product but since I now know, so do you.
You're welcome.