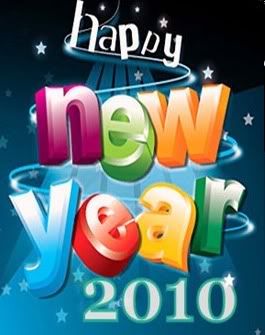 Happy New Year everyone
! I hope you were able to ring in the new year in a positive way no matter how you celebrated. For us, it was a simple night in which seems to be a recurring theme. We're not drinkers or partiers so those type of scenes aren't fun. A couple years we've gone out to a show or event but we also enjoy just cuddling at home. We ate pizza, popped in some movies and watched the ball drop at midnight. Simple? Yes. But it worked for us.
I'm still a little amazed we celebrated entering 2010 since it feels like we just did this for 2009 like 3 months ago. I'm really not sure where the whole year went! I think we spent so many months (8 in total) hunting and waiting for our house that it sort of swallowed up 2009. We were basically in limbo for most of it. Our life went on hold in the beginning of February and started moving again the first week of October. But now that we're settled in our house we can enter the new year ready to start fresh!
As for our new plans, we seem to have plenty! We never call them New Year resolutions but the concept is basically the same. Quite a few have to do with the house as I'm sure no one is surprised about. There's always something to do, fix, or change with a house so that list has been growing since we moved in. One I'm looking forward to is new windows! The ones we have now are well past their prime and are so drafty. Many we could never leave open as they would fall out of the tracks due to some of the clips being broken. It will be so nice to have efficient, functional and nice looking windows. I cannot wait! Another is a new dishwasher since our current one has decided it's a good idea to leak each time it runs, which is just so much fun.
Besides the house, we have plans to add a dog to our little family! I'm not sure exactly when this will happen but I'll share pictures and info when it does. Our plan is to adopt an adult dog from a local shelter or rescue. Although puppies are adorable and fun it's great saving a dog and giving it life it might not otherwise had. A lot of the time they almost seem to know they were saved. Some people call that foolish but many who rescued a dog in some way would agree. I'm looking forward to having a little fur-baby sometime soon since we were unable to due to the no pet policy at our apartment.
We also have a couple other plans that I can't share yet but I will once they come through. Hopefully it will be very soon sometime in the next few months!
I'll be back on my normal routine next Monday now that the holidays are over and things will be getting back to normal. I hope everyone had a great holiday season with whatever you celebrate. Ours were great minus the blizzard we had before Christmas that dumped 15 inches of snow. That was a mess and a half!
Thanks for finding and sticking with me much of 2009. It's been lots of fun and hopefully will be even better this year! I love reading all of your comments and emails so keep them coming!
2010 here we come!