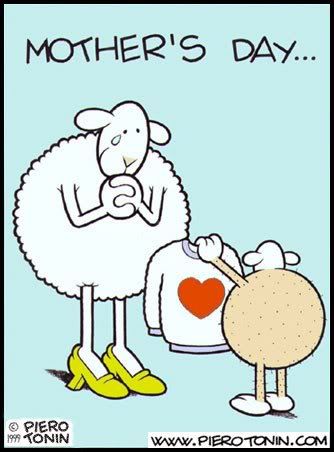 Who decided Mother's Day should always be on a Sunday? Is there a certain person that decided that for everyone or was it one of those things that just happened? It's a little inconvenient. It's a great concept, don't get me wrong. A day to celebrate the Mom's of the world, particularly the one(s) in your life. And they deserve it. But why is it on a day when
everything
is closed, especially florists? Buying flowers is like a massive scavenger hunt around here if you actually want to buy them in person. Of course you can always order online, pay extra fees and have them delivered in a box by some random person. Because who doesn't enjoy being charged more for the same thing just because they can?
Last year we didn't really plan ahead which is really unlike me and as a result we almost didn't get my Mom flowers. Everyone was closed and the ones that weren't had nothing. We actually found one at the last minute and I had to settle for something I probably wouldn't have picked if I had a full selection. She loved them of course and they were beautiful. But I wasn't satisfied. This year will be different! We found a florist that is not only open on Sunday but offered pre-order online to guarantee you would have exactly what you wanted. Perfect! Why don't more places do that? Seriously?
I guess I just find it surprising that there aren't more options to buy flowers on Mother's day somewhere local. Instead you feel almost trapped into using an online service. Have you visited an online flower delivery site lately? I landed on
www.Teleflora.com
earlier this week and was surprised at how quickly the price shot up. I'll even show you what happened.
I browsed through the site for a bit and decided that I really liked an arrangement they call
"Teleflora's Sunny Smiles"
. I thought my Mom would really like it and clicked the picture which brought up their 'quick view' screen. It offered two price options, a standard and a deluxe. The standard was listed at $29.95 and the deluxe at $39.95. All I had to do was provide the delivery zip code and it would be added to my cart. Below is a screen shot of the prices and the one I selected.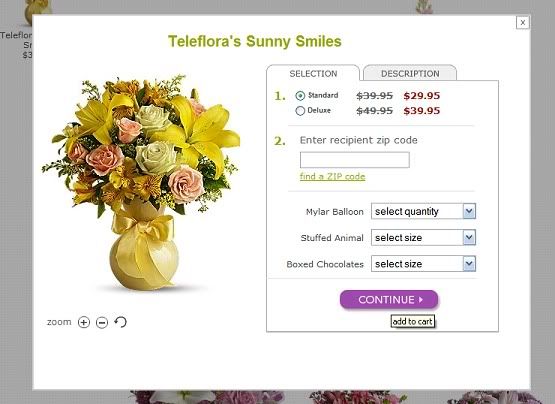 I picked the standard for the advertised price and typed in my Mom's zip code. I clicked continue and was brought to my shopping cart. To my surprise the price had changed. Not only did it increase but without much explanation. I assumed at first it was based on where it's delivered and for some reason we live in a higher fee area. Then I looked down and found yet another surprise. The picture below is a screen shot of my cart.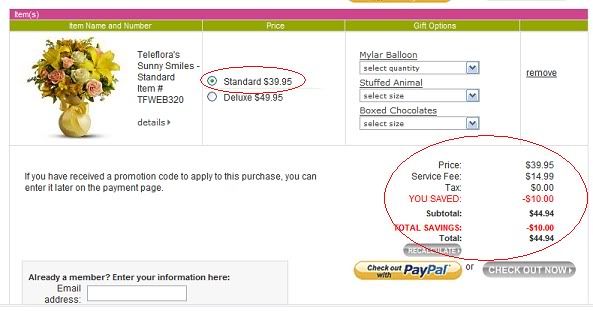 What was the first thing you noticed? How about the $14.99
'service charge'
? Whatever the hell that is. I noticed they took off the $10.00 as part of the sale which brought the arrangement back to the stated $29.95 but they were then tacking on an additional $15. Just like that my order was up to $45.00. How wonderful. They weren't done yet though. On the next page came the shipping.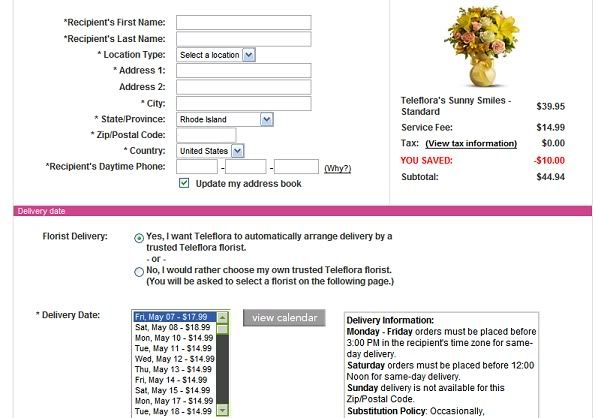 It would be an additional $14.99
minimum
for shipping unless I wanted it to arrive on the Friday or Saturday (which I would). Then it was $17.99 and $18.99 respectively. Fan-freaking-tastic. In a blink of an eye my $29.95 flowers magically became $63.93. The price literally doubled right before my eyes and I wasn't getting anything extra. Is this beyond excessive to anyone else besides me? I love my Mom more than I can even say but I think she would want to smack me upside the head for paying that. That is if I didn't do it first.
In the end I ordered a comparable and equally beautiful arrangement with vase included through someone local for $35.00. I was able to place the order online and choose in-store pickup for Sunday, at the time of my choosing. I will be able to view/inspect the arrangement before paying. Best of all, I will have the joy of seeing my Mom's face when I hand the flowers to her.
Money can't buy that kind of moment.
I want to wish a very happy Mother's Day to all the Mom's out there! You're all amazing! I hope you have a beautiful day with the people that you love, especially your children no matter their age.
"A Mother holds her children's hands for a short while, but will be held in their hearts forever." – Unknown.